Rock Star: INXS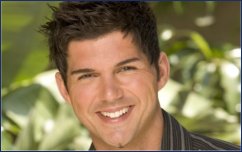 INXS says it was shocked to hear its most recent lead singer, J.D. Fortune, claim he is living in his truck after the Australian rock band fired him. Full Story


Canadian singer J.D. Fortune, the winner of the competition reality show "Rock Star: INXS," says the Australian band has fired him and he's now homeless.

Dave Navarro apparently thinks Perry Farrell needs to recheck his facts and quit reliving the past after the frontman for the now disbanded Jane's Addiction recently blamed the former Rock Star host for breaking up the group.

Dave Navarro began hosting CBS' Rock Star reality competition series in May 2005 -- a new television gig that apparently brought an end to the for the guitarist's former Jane's Addiction band.

A writer and producer is reportedly claiming that reality television producer Mark Burnett was part of an alleged conspiracy to steal her idea for Rock Star: INXS, which aired on CBS in the summer of 2005.

One of the finalists from CBS's "Rockstar INXS," MiG, has been signed to his first record deal with Universal Music Classics Group.

INXS' post-Rock Star career with new lead singer J.D. Fortune has gotten off to a strong start, with "Pretty Vegas," the band's first new song, debuting in last week's Billboard Top 40 chart.

Australian rockers INXS and their new frontman Canadian J.D. Fortune announced a world tour Tuesday that kicks off Jan. 18 in Vancouver.

The members of the rock band INXS say their new singer, chosen via nationally televised auditions, just "felt right" for the group.

Australian rockers INXS chose Canadian J.D. Fortune as their new singer before a U.S. TV audience.

INXS' remaining members decided that Suzie McNeil wasn't right for their band during last night's broadcast of Rock Star: INXS, eliminating the reality competition's last woman and making Mig Ayesa, Marty Casey, and J.D. Fortune the show's three finalists.

CBS announced today that, effective immediately, the network has dropped the Monday night broadcast of its struggling Rock Star: INXS reality series from its primetime schedule. The pre-taped weekly half-hour Rock Star broadcast that documents the contestants' behind-the-scenes activities and song selection process will now air on VH1 on Sundays at 8PM ET/PT.

It looks like "Rock Star: INXS" emcee Brooke Burke will soon be able to resume her "Wild On ..." ways.

Reflecting the international nature of its talent search -- a search that was conducted in twenty cities on six continents -- beginning tonight, Rock Star: INXS viewers in nine countries will have a chance to have their votes determine which contestants will survive each Tuesday performance round.