The Real Roseanne Show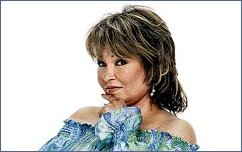 Roseanne Barr may finally have achieved TV infamy: two cancellations in two days. The Associated Press reports that, in a move which surprised no one, the ABC television network axed further broadcasts of The Real Roseanne Show, following yesterday's cancellation of her upcoming ABC Family Channel show Domestic Goddess. Full Story


The Associated Press reports that ABC is debating whether to cancel The Real Roseanne Show in the wake of the cancellation of Domestic Goddess, Roseanne Barr's ABC Family cooking show that was scheduled to debut next month. As discussed in this thread, the reality show, which airs two half-hour episodes each Wednesday, was slated to end when the cooking show began -- but the cooking show, which had not yet completed filming an episode, has been dropped in the wake of Roseanne's scheduled hysterectomy this week.

ABC has announced that comedienne Roseanne Barr's reality show, "The Real Roseanne Show," will premiere Wednesday, August 6, with two back-to-back 30-minute episodes (9 PM ET.)

Reuters reports that comedian Roseanne Barr's previously announced new 13-episode ABC reality show finally has an airdate. The prime time show, which was first announced back in October 2002, still does not have a title yet but will begin airing in late July and follow Roseanne at home and work as she puts together a cooking show. The cooking series actually will be shown on cable network ABC Family.

In a "synergistic move," ABC has announced that the ABC Television Network will air a Roseanne Barr reality show chronicling of the making of another ABC Family cooking and lifestyle series this will also starring the comedian.

Variety reports that Roseanne is set to star in an ABC Network "unscripted reality workplace comedy," which she'll also executive produce with documentary veteran R.J. Cutler ("American Candidate"). ABC is close to finalizing a 13-episode on-air commitment to the untitled -- and unconventional -- half-hour series, which is being eyed for a possible summer 2003 bow.