The Law Firm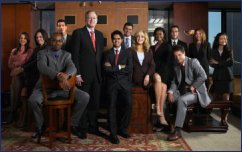 NBC has found its new
The Law Firm
series in contempt, pulling the plug on the David E. Kelley reality legal show after only two low rated broadcasts.
Full Story


NBC has announced that it has tweaked its previously announced summer programming lineup, changing the premiere schedule for six of its upcoming reality series, including David E. Kelley's The Law Firm reality series.

If you can't beat 'em, join 'em.