The Houstons: On Our Own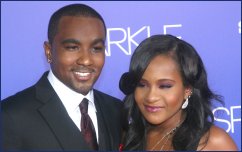 Bobbi Kristina Brown, daughter of the late U.S. music icon
Whitney Houston
, said in a Facebook posting Wednesday she is engaged to Nick Gordon again.
Full Story


Bobbi Kristina Brown, the daughter of the late Whitney Houston, says her grandmother's new book is disrespectful and she wants nothing to do with it.

Bobbi Kristina Brown and Nick Gordon, who confirmed their engagement last month on a U.S. reality show, have broken up, UsMagazine.com said Wednesday.

Bobby Brown has been arrested in Los Angeles for a second time this year for allegedly driving under the influence of drugs or alcohol.

Bobbi Kristina Brown has confirmed she is engaged to adopted brother Nick Gordon in a newly-released clip for Lifetime's upcoming The Houstons: On Our Own reality show.

Bobbi Kristina Brown, the daughter of singer Bobby Brown and the late Grammy Award winner Whitney Houston, was involved in a Georgia car crash.

Lifetime has announced the premiere date for The Houstons: On Our Own, a new reality series which will follow Bobbi Kristina Brown and other loved ones left behind by Whitney Houston's sudden passing.

Cissy Houston will be writing a book about her deceased daughter, Whitney Houston, in addition to co-starring in Lifetime's upcoming "The Houston Family Chronicles" reality show.

Bobby Brown's new album includes "Don't Let Me Die," a song he wrote and recorded for his late ex-wife Whitney Houston.

Cissy Houston, the mother of late American singer Whitney Houston, told friends she is in favor of a new Lifetime docu-series about her family.

Whitney Houston's daughter Bobbi Kristina and mother Cissy are to star in a new reality series, Lifetime announced Friday.

Cissy Houston says the media has been "awful" in the wake of her daughter Whitney's accidental drowning death Feb. 11.

Bobbi Kristina Brown's publicist says the only child of the late Whitney Houston and U.S. singer Bobby Brown is not engaged to a man raised as her brother.

Bobbi Kristina Brown's maternal grandmother, Cissy Houston, is upset the teen is romantically involved with a man her mother, Whitney, helped raise, TMZ said.