Paradise Hotel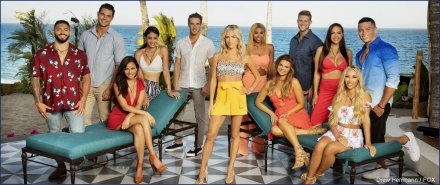 Paradise Hotel eliminated Hans Wiener and Kyle Rydberg aka "Big Red" on "Check-Out Day" when they were left single and alone after the rest of the cast paired up at the conclusion of the new Fox revival's Thursday night episode. Full Story


Paradise Hotel eliminated Deiondra Sanders on "Check-Out Day" when she was left alone after the show's 11 initial singles paired up at the conclusion of the new Fox revival's Thursday night premiere.

Paradise Hotel's revival is premiering later this week, and the cast has officially been announced by Fox.

Paradise Hotel, which is returning to Fox after 16 years, will premiere in May and feature reality TV star Kristin Cavallari as the host.

Paradise Hotel is returning to Fox after sixteen years.

Although the show's broadcast networks have stated he was killed in a climbing accident, Nathan Clutter, one of 11 singles appearing in MyNetworkTV and Fox Reality Channel's upcoming Paradise Hotel revival, actually died in an apparent suicide, according to police documents obtained by Reality TV World.

Nathan Thomas Clutter, one of 11 singles appearing in MyNetworkTV and Fox Reality Channel's upcoming Paradise Hotel revival, died on October 12 at age 26.

MyNetworkTV and Fox Reality Channel have announced that the cable networks' new Paradise Hotel revival will premiere on Monday, February 4 at 9PM ET/PT on MyNetworkTV before a "steamier" TV-MA version of the same episode airs at 1AM ET the same night on Fox Reality Channel.

After a more than a four-year hiatus, Paradise Hotel will be re-opening for business.

Almost a year and a half after it last aired and nearly a year after its "never-ending" Forever Eden sequel was cancelled after only seven episodes, one of the producers of Fox's Summer 2003 Paradise Hotel reality series says the network is discussing the possibility of bringing the show back for a Summer 2005 run.

Continuing a recent mini reversal of the one-way trend of US broadcasters licensing existing overseas reality programs for US production, Digital Sky's Neil Wilkes is reporting that FOX has sold the format for its Paradise Hotel summer program to ten countries around the world.

Finally, after a 16-week run that sometimes seemed like it was never going to end, Fox's "Paradise Hotel" wrapped up its first season in a two-hour finale Wednesday night. When all was said and done, three of the four members of "Team Barbie" walked away with prize winnings, but the fourth was left high and dry.

Reality TV veteran Toni Ferrari, featured as a supreme creator of chaos on Fox's Paradise Hotel, Fox's Love Cruise and the syndicated Blind Date, will finally be able to move her surgically-enhanced "talents" to the big screen -- but not in a featured role. Toni has been added to the bodybuilding movie No Pain, No Gain, an apparently completed but unreleased film adding new scenes.

The current edition of US Magazine includes a brief mention of this week's upcoming finale of Fox's Paradise Hotel -- along with a picture that appears to inadvertently reveal the identities of the show's "Final Four" contestants. The picture, discussed on the Reality TV World message boards, is a photograph of the jury, apparently taken during the finale. Thus, the four contestants not in the photo make up the final two couples.