Armed & Famous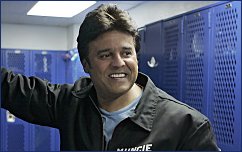 Former CHiPs star and Armed & Famous participant Erik Estrada has become a real-life police officer. Full Story


Jack Osbourne and his wife Lisa Stelly have sadly disclosed they have lost their unborn baby.

Erik Estrada returns to 'Armed & Famous' city to resume police patrols

A case of mistaken identity during filming of CBS' short-lived Armed & Famous reality series could reportedly cost $1 million in damages.

A raid at the wrong house filmed during the short-lived "Armed & Famous" reality show may prompt a lawsuit against Muncie, Ind., police and city officials.

It didn't take too long for CBS' recently pulled Armed & Famous reality series to find a new home.

After only two weeks, the sixth season of Fox's American Idol has begun flexing its muscles. CBS has decided to pull Armed & Famous out of competition with the Fox mega-hit "effective immediately," Daily Variety reported on Friday.

There's saying thank you...and then there's saying THANK YOU!

Celebrity cop Erik Estrada was involved in a shouting match with a stabbing victim during the taping of CBS' "Armed & Famous" in Muncie, Ind., a report says.

Eric Estrada said his childhood dream was to be a member of the New York City Police Department. Now the 57-year-old The Surreal Life 2 roommate and former CHiPs freeway patrolman is getting his best opportunity to fulfill that dream by working as a reserve police officer in Muncie, IN for the new CBS reality series Armed & Famous.

The five celebrities patrolling the mean streets of Muncie, IN in the upcoming CBS reality series Armed & Famous have not been taking their jobs as reserve police officers very lightly.

CBS has announced Armed & Famous, a new reality series that transforms D-list celebrities into city cops, will premiere on Wednesday, January 10 at 8PM ET/PT.

CBS has reportedly begun production on Armed & Famous, a new reality series that follows five D-list celebrities as they train to become police officers and are put on patrol in Munice, IN.