Miscellaneous Reality TV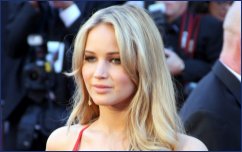 Jennifer Lawrence
has revealed a major make or break when it comes to her dating life, and it's a love or lack thereof for reality TV.
Full Story


Kesha recently filed a lawsuit against her longtime music producer Lukasz "Dr. Luke" Gottwald, citing reputation-shattering allegations of abuse, but she reportedly previously denied all those claims sworn under oath.

Kesha is suing her longtime music producer Lukasz "Dr. Luke" Gottwald for a decade of alleged sexual, physical, verbal and emotional abuse.

Robert Pattinson's older sister Lizzy Pattinson was eliminated from the British edition of The X Factor on Sunday.

Juan Pablo Galavis reportedly only appeared on VH1's Couples Therapy with Dr. Jenn with girlfriend Nikki Ferrell for money.

Erica Mena says her new fiance Bow Wow will not appear on the fifth season of Love & Hip Hop.

TLC has revealed the six couples who will be appearing on the second season of 90 Day Fiance, which is scheduled to premiere Sunday, October 19 at 9PM ET/PT.

Paula Deen will do her first television interview in more than a year on Tuesday.

Love & Hip-Hop star Erica Mena has been taken off the market.

Robin Roberts announced details about her new company Rock'n Robin Productions on Wednesday's edition of Good Morning America.

Cee Lo Green's The Good Life reality series has been canceled by TBS after one season.

LeAnn Rimes' joke about raping her boyfriend the first time she had sex is causing some social media backlash.

Bravo has announced Caroline Manzo's new Manzo'd with Children reality series will premiere Sunday, October 5 with back-to-back, half-hour episodes beginning at 9PM ET/PT.

LeAnn Rimes has stopped taking birth control in her attempt to begin a family with her husband Eddie Cibrian.