The Bachelor 4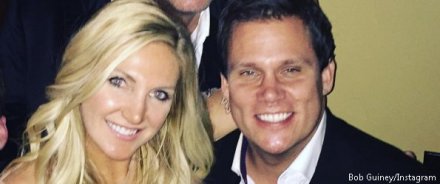 The Bachelor alum Bob Guiney and his wife Jessica Canyon have welcomed their first child together. Full Story


The Bachelor alum Bob Guiney is going to be a dad.

Former The Bachelor star Bob Guiney has seemingly reached the happy ending of his love story.

The Bachelor fourth-season star Bob Guiney will apparently soon be a bachelor again.

Bob Guiney could reportedly soon be staring bachelorhood in the face once again.

TLC has announced Date My House, a new home-makeover reality show hosted by former The Bachelor fourth-season star Bob Guiney, will premiere on Saturday, April 5 at 8:30PM ET/PT.

CMT has announced Trick My Trucker, a new spin-off of the network's Trick My Truck reality series that will be hosted by former The Bachelor fourth-season star Bob Guiney, will premiere on Saturday, November 10 at 9PM ET/PT.

Bob Guiney thinks the future is bright for recently eliminated American Idol 6 finalist Brandon Rogers -- and after turning an unsuccessful appearance on ABC's The Bachelorette into a starring role on the fourth season of The Bachelor, he probably should know.

Reality TV World learned yesterday that Bob Guiney, star of ABC's The Bachelor 4, and his fiancee Rebecca Budig, an actress who also hosted repeats and special editions of The Bachelor, were married on July 3rd. An attendee told Reality TV World that the nuptials took place in Hale, Michigan, at his parents' home on Long Lake, at 11:00 AM.

We finally know what Bob Guiney, the egoistical star of ABC's The Bachelorette and The Bachelor 4, was seeking in his ideal mate: someone with a full-time publicist. No wonder Estella Gardinier and Kelly Jo Kuharski didn't even merit an engagement ring.

The battle is over, and Bob Guiney won by knockout. Whether he can still save his singing career is another matter.

Another week, another Bachelor couple admitting that their relationship has ended during an interview on the syndicated Extra entertainment news program. Oh what a busy December it's been for Bachelor/Bachelorette couple news.

In the lawsuit between the producers and the star of ABC's The Bachelor 4, which we reported here Monday, Bob Guiney received an early Christmas present.

Count The Bachelor producers And Syndicated Productions, Inc. among Bob Guiney's former fans.

Maybe Bob Guiney, the star of ABC's The Bachelor 4, has already had his fifteen minutes of fame.

Has Bob Guiney, the star of the ABC's just-completed fourth The Bachelor series, already broken up with Estella Gardinier or not? According to Guiney, no.

Are ABC's Bachelor Bob Guiney and Estella Gardinier, the woman that he selected at the conclusion of the series, already broken up? According to at least one New York City newspaper gossip column, yes.

According to the Fast Affiliate Ratings, ABC's November 20 The Bachelor: After the Final Rose special fared well in the highly competitive Thursday 8PM ET/PT time slot, placing a distant third to NBC's Friends and CBS' Survivor: Pearl Islands, but managing to steal viewers from Survivor and deliver ABC's largest entertainment programming audience and highest Adult 18-49 rating in the hour since February 20, 2003.

According to the fast affiliate ratings for November 19, ABC's season finale of The Bachelor starring Bob Guiney drew an average audience of 18.5 million viewers and earned an 8.7 rating, 21 share among Adults 18-49 during its 2-hour telecast.

Shades of Alex Michel. Since Alex chose, but didn't propose to, Amanda Marsh at the end of ABC's initial The Bachelor, three straight series of The Bachelor and The Bachelorette had ended with proposals of marriage. But then came Bob Guiney.