The Bachelor 1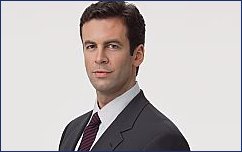 The NYPost reports that an upcoming issue of TV Guide will feature a blockbluster "behind the scenes" reality story of sorts -- news that the first "Bachelor," Alex Michel, who snubbed "Bachelorette" Trista Rehn for a younger woman at the end of the first ABC "The Bachelor" series, continued to carry a torch for Trista, writing and phoning her for months after the show ended. Upon learning of the secret relationship, Amanda Marsh, dumped Alex. Full Story


Prosecutors allege a Boston lawyer who was once in the running to star in ABC's "The Bachelor" is a serial rapist.

Trista Sutter may be a reality television celebrity, but the former The Bachelorette star is still struggling with weight-loss just like any other new mother after welcoming her first child with husband Ryan in late July.

The Hollywood Reporter reports that ABC is getting a little more mileage of "The Bachelor," creating a behind-the-scenes special about the reality dating series that's to run on sister network ABC Family. The six-part miniseries, titled "The Bachelor: Special Edition," will run six consecutive nights from August 11-16th.