Trading Spaces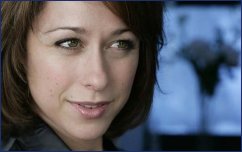 TLC has confirmed that it has canceled Trading Spaces, its once high-flying flagship series, after eight seasons. Full Story


Paige Davis is returning to reality TV.

If Doug Wilson ever needs to redesign a jail cell, he'll now have some sort of reference point.

TLC has announced that it will begin airing 13 new eighth-season Trading Spaces episodes on Saturday, September 20 at 10PM ET/PT.

If you would have told Paige Davis she'd ever return to Trading Spaces after TLC decided to go with a "host-less" format three years ago, she wouldn't have believed you.

TLC has announced Trading Spaces' eighth season, which will feature the return of former host Paige Davis, will premiere on Saturday, January 26 at 10PM ET/PT immediately following the network's broadcast of the 2008 Miss America Pageant.

Two days after reports of her return first emerged, TLC has confirmed that Paige Davis will return to Trading Spaces as part of a new revamp of the network's once high-flying flagship series.

Paige Davis evidently isn't the grudge-holding type. Three years after TLC fired her from Trading Spaces, Davis has apparently agreed to return as the room-makeover show's perky host.

TLC confirmed today that it has fired Paige Davis, the host of its flagship Trading Spaces series. According to the network, the move is part of a decision to take the show (which has seen its ratings sag considerably during the last two seasons) into a new creative direction that will feature a "host-less" format.

TLC has announced that its Trading Spaces, the "granddaddy" of all of the U.S. home-remodeling reality shows, will be revamped for the coming TV season after its ratings slumped significantly during the past year.

Apparently Paige Davis, the host of TLC's Trading Spaces, likes to push the edges of the envelope in her public life.

Trading Spaces has always tested friendships and challenged neighbors to find out exactly how well they know each other, but there was one thing they could always count on -- they were in it together. Not anymore.

Are you a carpenter looking for a new gig? Interested in travelling around the country? Are you comfortable appearing on television? Interested in hanging out with Paige Davis and the rest of the Trading Spaces crew? If so, TLC might have the perfect job for you -- they're conducting a nationwide search for a new carpenter to join the crew of their hit home remodeling series.

TLC's Sunday night two-hour premiere of Trading Spaces $100 Grand drew record numbers of viewers for the network, making it the highest-rated TLC program ever and setting several 2003 cable broadcast records.