16 & Pregnant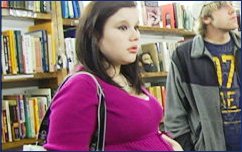 "16 & Pregnant" star Whitney Purvis admits her theft of a pregnancy test landed her in a Georgia jail, but says she's not pregnant a second time.
Full Story


Amber Portwood has admitted she recently attempted suicide.

Ready or not, MTV's 16 and Pregnant star Jordan Ward will soon be a mother of two.

Kim Kardashian and Amber Portwood apparently aren't fans of each other.

MTV has announced that 16 and Pregnant will return with nine new second-season episodes beginning Tuesday, October 26 at 10PM ET/PT.

MTV has announced it has ordered Teen Mom, a spinoff of its 16 & Pregnant reality series that will continue to follow four young moms as they struggle with the challenges of their first year of motherhood.

MTV announced it has renewed 16 & Pregnant for a second season and will also air a first-season finale special hosted by Celebrity Rehab's David "Dr. Drew" Pinsky.

MTV has announced 16 & Pregnant, a new Engaged and Underage-type docu-reality series that will instead focus on young girls who are pregnant, will premiere Thursday, June 11 at 10PM ET/PT.