Beauty And The Geek 2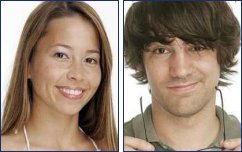 Their individual team's fates on The WB's still-airing
Beauty And The Geek 2
reality competition show might remain unknown, however the fate of
Geek
couple Wes Wilson and Cher Tenbush's budding romantic relationship (first shown in last week's fifth episode broadcast) isn't -- three months after the show's filming ended, the couple says they're still together.
Full Story


The WB network announced Tuesday it will bring back its summer hit "Beauty and Geek," starting in January.

The WB has announced that it has ordered a second season of Beauty and the Geek, the currently airing reality series that has emerged as a summer hit for the reality-challenged network.