Paris Hilton's My New BFF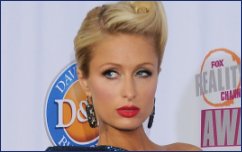 Paris Hilton to star in new docu-reality series for Oxygen network Full Story


Paris Hilton's publicist says the U.S. socialite has canceled her Asian tour after she wasn't allowed into Japan due to a recent drug arrest.

Socialite Paris Hilton pleaded guilty Monday in a Las Vegas to two misdemeanors in her arrest last month on drug charges.

American socialite Paris Hilton has agreed to plead guilty to misdemeanor drug possession and serve one year of probation, court documents show.

Paris Hilton was able to bond out of a Las Vegas jail in about half the normal time to reduce distractions, officials say.

U.S. socialite Paris Hilton has denied ownership of cocaine found in a purse she was carrying when she was arrested during the weekend in Las Vegas.

Heiress and U.S. socialite Paris Hilton was charged with felony cocaine possession following her weekend arrest in Las Vegas, police documents indicate.

Socialite Paris Hilton was arrested for possession of cocaine following a traffic stop on the Las Vegas strip, police say.

A man was charged with a felony for allegedly trying to break into socialite Paris Hilton's home, the Los Angeles County District Attorney's Office said.

Police in South Africa arrested Paris Hilton for marijuana possession but then released her, a publicist for the U.S. socialite and reality TV personality said.

Paris Hilton launches Dubai version of her 'My New BFF' reality show

Paris Hilton's publicist said the U.S. socialite has broken up with reality television personality Doug Reinhardt after six months of dating.

One new BFF apparently isn't enough for Paris Hilton.

Celebrity heiress Paris Hilton has accidentally shown off mismanaged hair extensions during a Los Angeles red carpet stroll, observers say.

Paris Hilton talks about her MTV reality search for a new best friend

MTV has confirmed it's ordered Paris Hilton's My New BFF, a new reality competition series that will follow the former The Simple Life star on her quest to find a new best friend.

Paris Hilton's latest box-office venture didn't do so hot, so she's reportedly returning to her roots.