The Two Coreys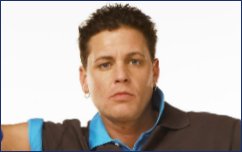 Canadian-born 1980s film star Corey Haim was left out of the "In Memoriam" tribute at Sunday's Oscars ceremony in Los Angeles. Full Story


The Screen Actors Guild Awards in Los Angeles did not include the late actor Corey Haim in its In Memoriam segment, drawing criticism from actor Corey Feldman.

There were a few contributing factors that apparently led to Corey Haim's death, however none of them were drug-related.

Corey Haim reportedly obtained a lot of prescription pills from a lot of different doctors prior to his death last month.

The Los Angeles County Coroner's Office Thursday issued a death certificate for former "The Two Coreys" star Corey Haim and listed the cause of the actor's death as deferred.

Corey Haim had apparently hoped to give viewers a glimpse into his struggles with sobering up via a new reality series.

Corey Feldman posted a letter telling his late best friend Corey Haim how much he misses him on the day a funeral was held for the actor in Toronto.

About 200 family members and friends attended Tuesday's funeral for former child star Corey Haim at the Steeles Memorial Chapel in his hometown of Toronto.

U.S. actor Corey Feldman says he doesn't plan to attend the funeral of his best friend and fellow former child actor and "The Two Coreys" star, Corey Haim, in Toronto Tuesday.

California Attorney General Jerry Brown says the death of actor Corey Haim appears to be connected to a prescription drug ring operating in the state.

A fund has been set up to help Corey Haim's family pay for the Canadian actor's funeral, a message posted on his Web site said.

Corey Haim's mother says the Los Angeles coroner's office told her the former child star had an enlarged heart and suffered pulmonary congestion.

David "Dr. Drew" Pinsky feels a stint on his Celebrity Rehab reality series could have saved Corey Haim's life.

U.S. actor Corey Feldman said on his Web site he was heartbroken to hear his friend and frequent co-star Corey Haim died Wednesday morning.