The Exterminators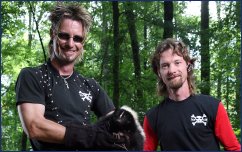 Ricky Lee Bretherton may have a hard time bug-spraying his way out this one.
Full Story


A&E has announced Billy the Exterminator, the second season of its The Exterminators reality series, will premiere on Wednesday, March 10 at 10:30PM ET/PT.

A&E has announced The Exterminators, a new reality series that will document a family as they run a Louisiana-based pest removal company, will premiere Wednesday, January 7 at 10:30PM ET/PT.