The Apprentice 3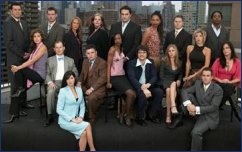 Former female contestants from NBC TV's "The Apprentice" have some lighthearted fun with Donald Trump in a 2006 calendar for charity. Full Story


Donald Trump says he is close to clinching a deal for a Chinese version of his hit NBC reality TV show, "The Apprentice."

A dozen women fired by Donald Trump on "The Apprentice" will appear as pinup girls in a calendar to benefit the charity Dress for Success.

MSNBC reports a battle between races is being considered for the next installment of Donald Trump's NBC reality show, "The Apprentice."

Donald Trump testified he paid a contractor more than $3 million for work that was only half-done on his Briarcliff Manor, N.Y., golf course.

When she was still fighting for a chance to be Donald Trump's newest employee during Thursday's live The Apprentice 3 finale, finalist Tana Goertz claimed to have learned a lesson from her unprofessional badmouthing of the eliminated contestants who had helped her execute her final task. However, based on the 37-year-old Iowa resident's behavior in the 24-hour period that followed her Trump firing, it would appear as though whatever lesson Tana learned, it had little to do with recognizing the inappropriateness of such behavior.

"Let the Tana Bashing Begin!," our episode summary for the seventeenth and (finally) last episode of the third edition of NBC's The Apprentice, written by volsfan, is now available.

Producer Mark Burnett and Madison Road Entertainment have settled lawsuits over charges to place products on NBC's "The Apprentice."

The Apprentice 3's season-long booksmart vs streetsmart battle ended with the last remaining booksmart team member winning over the last remaining streetsmart team member, as Kendra Todd, a 26-year-old real estate broker from Boynton Beach, Florida edged fellow finalist Tana Goertz to become the third person to hear Donald Trump say "You're hired."

In the season finale of NBC's "The Apprentice" Donald Trump chose Kendra Todd to join his empire and help renovate a Palm Beach, Fla., mansion.

"Here's a Story, of a Delusioned Lady, with Three Very Messed Up Children," our episode summary for the sixteenth episode of the third edition of NBC's The Apprentice, written by Fishercat, is now available.

The Apprentice season that highlighted a battle between high school-educated streetsmart contestants competing against college-educated booksmart contestants is fittingly ending with a final showdown featuring one contestant from each team.

"So Tell Me A Little Bit About Yourself," our episode summary for the fifteenth episode of the third edition of NBC's The Apprentice, written by ginger, is now available.

With its teams dissolved at the end of last week's episode, last night's NBC The Apprentice 3 broadcast featured the show's final three contestants, Craig Williams, Tana Goertz, and Kendra Todd, facing a series of interviews. Craig, the 37-year-old high-school educated shoeshine business owner from Conley, Georgia, failed to impress the executives, causing Donald Trump to fire him midway through the episode. Afterwards, as in previous seasons, the final two contestants were given their final tasks and assigned a colorful group of former contestants as "employees."