Temptation Island 1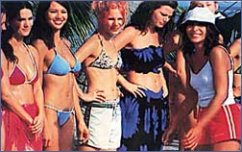 Here's a "Where are they now update" for anyone wondering...
"The Pocono Medical Center's new in-house physician has a little more on her resume than the usual recruit: She was a contestant on 'Temptation Island,' Fox's prime-time reality romance show, and a Playboy centerfold."
"Dr. Alison E. Dietrich was recently hired to cover night and weekend shifts at the medical center. Board certified in family practice medicine, Deitrich graduated from the University of Pennsylvania School of Medicine after earning a biology degree with highest honors from Penn State. Deitrich, 29, grew up near Kutztown, PA."
Source: NewsItem.com Full Story