Jennie Garth: Little Bit Country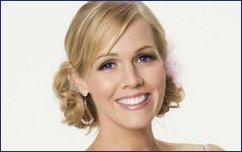 Jennie Garth
and Peter Facinelli, her husband of over a decade, have finalized their divorce.
Full Story


Jennie Garth's decision to move to rural California and open her family's life up to reality TV cameras apparently ended up taking a surprise turn.

Rehearsing for hours on end day after day, Jennie Garth is apparently feeling the Dancing with the Stars grind.

Jennie Garth was unsure what to expect from her husband, actor Peter Facinelli, when she signed-on as a Dancing with the Stars' fifth-season celebrity participant, but the former Beverly Hills 90210 actress has been pleasantly surprised.