Flavor of Love 2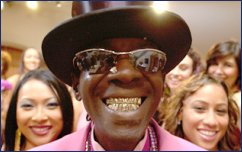 Rapper Flavor Flav says he is looking for love, and he told the New York Post he is especially searching for the "good-girl type."
Full Story


The long arm of the law has reportedly caught-up to Saaphyri Windsor.

Vivid Entertainment is hoping that Jennifer Toof can live up to the nickname Flava Flav bestowed upon her during Flavor of Love's second season -- Toastee -- as the adult-film company has announced plans to release Toastee Exposed, a hardcore sex video of the 23-year-old Havertwon, PA native, on May 16.

Even though Flavor Flav chose Deelishis as the winning contestant on his VH1 reality show, he is reportedly expecting his 7th child with another woman.

Professional numerologist Hans Decoz says rapper Flavor Flav made a good choice with Deelishis, the winner of his U.S. TV series "Flavor of Love."

The finale of VH1's reality show, "Flavor of Love," was the top rated non-sports show on cable TV this year.

Demonstrating that the breakout ratings that last spring's initial season of the show drew delivered don't appear to have been a fluke, Sunday night's premiere of the second edition of VH1's Flavor Of Love reality series drew the network's biggest season premiere audience ever.

VH1 Thursday announced a second season of "Flavor of Love," its hit reality show that has rapper Flavor Flav looking for an ideal mate.