Flavor of Love 1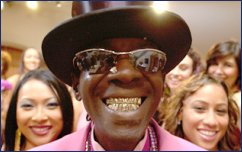 VH1 enjoyed its best year ever in 2006, and the basic cable network has some of its reality programming to thank.
Full Story


The woman who won the "undying love" of rapper Flavor Flav on the VH1 reality show, "Flavor of Love" says in real life, they're just friends.

A contestant who spit in her rival's face during the VH1 reality TV show, "Flavor of Love," has lost her substitute teaching job in California.