Bristol Palin: Life's a Tripp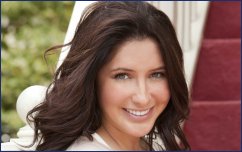 A judge has tossed out a defamation suit a gay man filed against Bristol Palin after a confrontation between the two aired on her Bristol Palin: Life's a Tripp reality TV show. Full Story


Levi Johnston says he wishes his 4-year-old son with reality TV personality Bristol Palin could have been part of his Alaska wedding to Sunny Oglesby.

Bristol Palin apparently isn't raising the bar too high for herself when it comes to competing on Dancing with the Stars her second time around.

A reality show featuring Bristol Palin, daughter of former Alaska Gov. Sarah Palin, has been pulled from its primetime slot.

Bristol Palin says viewers will see her true colors in her new reality show Bristol Palin: Life's a Tripp, which will premiere June 19 on Lifetime and also star her three-year-old son Tripp.

Bristol Palin is giving reality TV another shot.

Bristol Palin is putting her new Arizona bachelorette pad up for rent and moving to Los Angeles to film her new reality show.