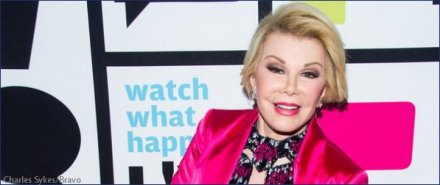 Fans are upset Joan Rivers was not featured during the Academy Awards' "In Memoriam" segment, but an Oscar representative insists it was nothing personal. Full Story


Melissa Rivers is releasing a book about her late mother, Joan Rivers.

Joan Rivers' daughter Melissa Rivers is finally suing Yorkville Endoscopy Center where the former Fashion Police host went into cardiac arrest after a routine throat procedure on her vocal cords, which ultimately led to her death.

June "Mama June" Shannon may be taking financial advantage of her drama with on-again, off-again boyfriend Mike "Sugar Bear" Thompson.

The Manhattan clinic where Joan Rivers had a medical procedure that resulted in her death has lost its federal accreditation.

Melissa Rivers has chosen to talk about her mother for the first time in public since Joan Rivers' passing September 4.

WE tv has announced the identities of the couples who will be starring in the second season of Marriage Boot Camp: Reality Stars, which will premiere Friday, January 9 at 9PM ET/PT.

Kathy Griffin has been confirmed as the new host of Fashion Police.

Kendra Wilkinson says she was naive when she moved into Hugh Hefner's Playboy mansion 11 years ago because she didn't realize sex came with the territory.

Kendra Wilkinson is ready to mend her marriage with Hank Baskett and move forward in life together.

Kendra Wilkinson is denying she's "single" despite reportedly saying so earlier this week.

Joan Rivers' death has been under federal investigation, and numerous violations and irregularities have surfaced in how the Fashion Police star was treated during the events that led to her cardiac arrest at a clinic and eventual passing.

Kelly Osbourne has a bone to pick with people following the death of her Fashion Police co-star and close friend Joan Rivers.

Melissa Rivers marked her first Halloween without her mom Joan by posting on social media an adorable old photo of them together.