'Til Death Do Us Part: Carmen & Dave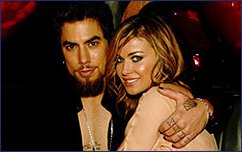 Carmen Electra's reality-TV career is apparently caput. Full Story


Rock star Dave Navarro and his Hollywood wife, Carmen Electra, have announced an "amicable separation" after 2 1/2 years of marriage.

MTV has announced that 'Til Death Do Us Part: Carmen & Dave, a documentary mini-series chronicling the lives of Carmen Electra and Dave Navarro during the months, weeks and days prior to their wedding, will premiere on Wednesday, January 21st at 10:30 PM (ET/PT) after the 10:00 PM second season premiere of Nick Lachey and Jessica Simpson's Newlyweds: Nick & Jessica.

Following in the footsteps of its success with celebrity couple Jessica Simpson and Nick Lachey's Newlyweds, MTV has announced that is is partnering with actress/model Carmen Electra and her fiance Dave Navarro to produce their own similar series.