Top Gear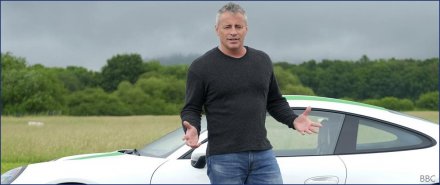 The new season of the U.K.'s Top Gear will debut March 12 on BBC America, the network has announced. Full Story


Matt LeBlanc will return as co-host of Top Gear for two more seasons, the BBC has announced.

Matt LeBlanc says he wants to come back to host another season of the BBC's Top Gear.

The BBC has confirmed Chris Evans' exit from Top Gear after a single season.

Chris Evans has announced he will not return for another season as co-host of the re-vamped, British version of Top Gear.

The sixth season of History channel's American edition of Top Gear will premiere April 26.

Matt LeBlanc stunned a bride and groom this weekend when he and a stunt driver raced past St. Paul's cathedral in London while taping footage for Top Gear.

New Top Gear host Chris Evans recently showed signs of experiencing car sickness while filming a segment of the U.K. show in California.

Former Top Gear stars Jeremy Clarkson, Richard Hammond and James May have agreed to a three-season TV deal with Amazon.

The BBC has ordered two 90-minute, Building Cars Live specials starring Kate Humble, Ant Anstead and former Top Gear icon James May.

Top Gear host Jeremy Clarkson is under fire for using a racial slur.

The History cable TV channel and Charlotte Motor Speedway say the upcoming Nationwide Series Top Gear 300 race is being named after a show on the channel.

The History cable network says it has ordered a second season of the U.S. version of "Top Gear."

Production has begun on the U.S. version of the hit British television show "Top Gear," the History channel announced.