Jackass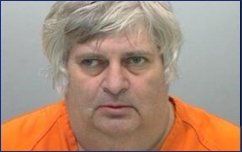 Jackass star Vincent "Don Vito" Margera has died at age 59. Full Story


Bam Margera has married his longtime girlfriend Nicole Boyd in Reykjavik, Iceland.

Bam Margera says he was only joking when he tweeted an image of him holding a fake gun to his puppy's head.

Bam Margera underwent a hernia operation shortly after taking a kayak over a 100-foot cliff in Oregon this week.

Elisabetta Canalis and Stephen "Steve-O" Glover have apparently found new dance partners.

"Jackass" star Brandon "Bam" Margera said a delivery driver who sideswiped his sports car in Pennsylvania got excited when he realized who the victim was.

Bartenders who served "Jackass" star Ryan Dunn say he downed eight drinks before his fatal traffic accident in Pennsylvania, but there could have been more.

A private service has been held for "Jackass" daredevil Ryan Dunn, who died this week in a car wreck after a night of drinking in Pennsylvania.

Ryan Dunn was both drunk and speeding at the time of the fiery car crash which killed Dunn and his passenger in Pennsylvania early Monday morning.

Ryan Dunn was speeding at 130mph when his Porsche jumped a guardrail and landed in a fiery crash, killing the Jackass star and his passenger on Monday, according to Pennsylvania police.

Film critic Roger Ebert says he stands by a comment he made about Ryan Dunn's fatal car crash, but wishes he had waited to make it until all the facts were in.

Chicago film critic and TV personality Roger Ebert says he won't apologize for a controversial remark he made via Twitter about Ryan Dunn's fatal car crash.

Ryan Dunn was killed in a car crash early Monday morning.

U.S. reality TV star and actor Johnny Knoxville has announced via Facebook that his wife, Naomi Nelson, is pregnant with their second child.