HGTV Design Star 3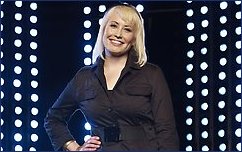 Jennifer Bertrand became
HGTV Design Star's
third-season champ during last night's finale broadcast of the HGTV reality competition series.
Full Story


Trish Beaudet became the seventh finalist eliminated from HGTV Design Star's third season during last night's broadcast of the reality competition series.

HGTV has announced it has renewed HGTV Design Star, the reality competition that gives its winning designer their own HGTV television show, and begun casting for the show's third season.