All American Girl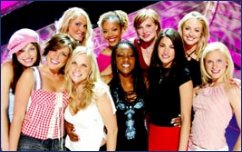 Variety
reports
that "All American Girl" was an all-American disappointment for ABC, debuting to season lows in its special two-hour time slot Wednesday night. The premiere of "All American Girl" posted a 3.0 rating and 8 share among adults 18-49, far below what time-slot predecessors "The Bachelorette," "Celebrity Mole" and even "I'm a Celebrity ... Get Me Out of Here" were doing on recent Wednesdays.
Full Story


ABC has announced that pop singer Geri Halliwell, NBA legend John Salley and entertainment executive extraordinaire Suzanne de Passe will put teams of finalists through rigorous training in an effort to have one of their young women chosen as the ultimate American dream girl on ABC's upcoming "All American Girl" reality series.

Variety reports that ABC has announced that after its current Wednesday night reality slate of "The Bachelorette" and "Celebrity Mole: Hawaii" conclude, it has scheduled the "All American Girl" reality beauty pageant series and the third edition of its "The Bachelor" series.

ABC has announced casting calls for the upcoming ABC Television Network reality series, "All American Girl," are being held throughout the country.