19 Kids & Counting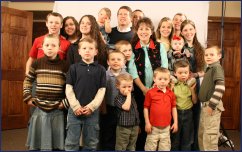 19 Kids & Counting will be coming to an end if a growing list of petitioners get their wish. Full Story


Jill Duggar and husband Derick Dillard are reportedly very happy.

Jim Bob and Michelle Duggar recreated daughter Jessa Duggar's kiss with husband Ben Seewald.

Nearly 1,000 guests attended the wedding of Jessa Duggar and Ben Seewald on Saturday.

Jill Duggar Dillard and her husband, Derick, revealed their baby will be a boy after their latest ultrasound at 18 weeks along.

Jill Duggar is expecting her first child with new husband Derick Dillard after tying the knot two months ago.

Another Duggar wedding is apparently on the horizon.

TLC has announced it will air all-new episodes of 19 Kids & Counting beginning on Tuesday, September 2.

19 Kids & Counting star Jill Duggar and her new husband, Derick Dillard, have shared photos from their recent beachside honeymoon in North Carolina.

The second Duggar daughter is now a married woman.

Jim and Michelle Duggar still hope to have more children.

19 Kids & Counting star Jill Duggar is engaged.

Jill Duggar has gotten engaged to boyfriend Derick Dillard.

The Duggar sisters have opened up about their home's Christian rules when it comes to dating in their new book "Growing Up Duggar: It's All About Relationships."