19 Kids & Counting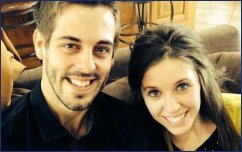 Jill Duggar celebrated her marriage and pregnancy with husband Derick Dillard over the weekend. Full Story


Jessa Duggar says she is loving married life with Ben Seewald, her husband of four months.

19 Kids & Counting stars Jessa Duggar and husband Ben Seewald are already counting the ways they can have lots of babies.

Jill Duggar took to Facebook to share a new baby bump photo recently.

Jill Duggar showed off her baby bump in a new photo posted Thursday.

Jim Bob Duggar isn't remotely afraid of 19 Kids & Counting getting pulled because of a petition floating around calling for TLC to cancel the reality show.

Tim Tebow denies he's dating 19 Kids & Counting star Jana Duggar.

Jana Duggar and Tim Tebow are reportedly dating.

Josh Duggar and his wife Anna Duggar are having their fourth child.

19 Kids & Counting will be coming to an end if a growing list of petitioners get their wish.

Jill Duggar and husband Derick Dillard are reportedly very happy.

Jim Bob and Michelle Duggar recreated daughter Jessa Duggar's kiss with husband Ben Seewald.

Nearly 1,000 guests attended the wedding of Jessa Duggar and Ben Seewald on Saturday.

Jill Duggar Dillard and her husband, Derick, revealed their baby will be a boy after their latest ultrasound at 18 weeks along.