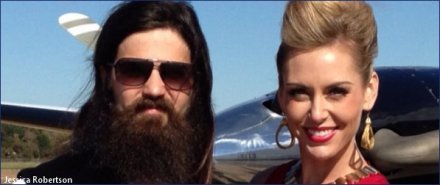 Duck Dynasty stars Jep Robertson and Jessica Robertson introduced their new adopted baby boy during Wednesday night's two-episode premiere of the spinoff Jep and Jessica: Growing the Dynasty. Full Story


Duck Dynasty stars are celebrating some big news, kicking off 2016 with a bang.

Duck Dynasty will be coming back to A&E next year with nine brand new episodes.

Duck Dynasty family member Reed Robertson is engaged!

Storage Wars: Miami star Kevin Pew is dealing with the fact his son has been charged with first degree murder.

Duck Dynasty star John Luke Robertson has tied the knot.

Duck Dynasty star Jep Robertson has revealed he was molested when he was young.

The person who officiated Jason Aldean and Brittany Kerr's March 21 wedding in Mexico was a Duck Dynasty star.

Phil Robertson has made headlines again for making inflammatory comments about a person's religion or lack thereof.

A&E has revealed the return date of its award-winning docu-reality series Intervention.

Jenny McCarthy says husband Donnie Wahlberg is the answer to her mother's prayers.

Duck Dynasty's famous Robertson family is taking their story to the stage, as they've convinced a Broadway team to create a musical in Las Vegas.

Donnie Wahlberg and Jenny McCarthy will be starring in their own reality series.

Duck Dynasty's Jep Robertson posed for pictures in his hospital bed and joked on Twitter after having a seizure while deer hunting last week.