American Gladiators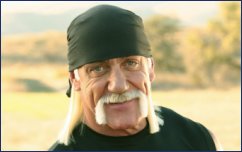 Terry "Hulk Hogan" Bollea claims that he came "damn close" to killing himself until he received a phone call from a co-worker. Full Story


Laila Ali and husband Curtis Conway welcome baby boy

Tim Oliphant and Ally Davidson were crowned American Gladiators male and female second-season champions during last night's finale broadcast of the campy NBC reality competition series.

'American Gladiators' competitors' twins born to 52-year-old grandma

Linda Hogan asks judge to hold husband Hulk Hogan in contempt

CMT has announced it's ordered Hulk Hogan's Celebrity Championship Wrestling, a new Ty Murray's Celebrity Bull Riding Challenge-like reality series that is currently slated to premiere this fall.

Motherhood will apparently be the newest addition to Laila Ali's ever-growing resume.

NBC has announced American Gladiators' second season will premiere with a two-hour broadcast on Monday, May 12 at 8PM ET/PT.

Evan Dollard and Monica Carlson were revealed to be American Gladiators male and female champions during last night's finale broadcast of the campy reality series' primetime revival on NBC.

NBC has announced its recently ordered second installment of American Gladiators will air this summer prior to the network's coverage of the 2008 Summer Olympic Games in Beijing.

While recent reports have shown you can't be too sure with some athletes these days, the muscles sported by the professionals on NBC's American Gladiators are apparently au natural.

NBC has ordered a second season of its American Gladiators primetime revival.

CBS has announced Laila Ali will serve as a contributing correspondent for The Early Show, effective immediately.

NBC has revealed the identities of the 12 men and 12 women who will be competing on the network's American Gladiators' primetime revival, which will premiere with a special two-hour episode on Sunday, January 6 before moving to its regular time period of Mondays at 8PM ET/PT the following night.