The Osbournes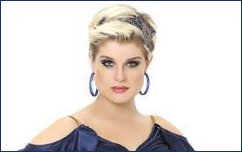 Kelly Osbourne
is reportedly secretly engaged to boyfriend Matthew Mosshart.
Full Story


Kelly Osbourne is in the hospital and in stable condition following a Thursday incident in which she suffered a seizure while taping an episode of E!'s Fashion Police.

Lisa Stelly, the fiancee of British reality TV personality Jack Osbourne, has given birth to their first child, a daughter, Hello! reported Tuesday.

Kelly Osbourne says she is finally free of an addiction to painkillers that she has dealt with since she was 13-years-old.

Former The Osbournes and upcoming Obsournes: Reloaded star Kelly Osbourne was reportedly arrested and charged with common assault earlier this month for allegedly slapping a woman at a London nightclub last August.

Sharon Osbourne wins libel damages for false British tabloid claims

The Osbourne family is reportedly adding a new member.

TV star Jack Osbourne, the son of rocker Ozzy Osbourne, helped catch an alleged mugger in London by wrestling the man to the ground, a source says.

Jack Osbourne says he is producing a documentary intended to show what his British rock icon dad, Ozzy Osbourne, is really like.

One of the first families of reality television is apparently planning on making a comeback.

Ozzy and Sharon Osbourne planning to auction homes contents

British singer Kelly Osbourne, daughter of heavy metal star Ozzy Osbourne, says a member of her family has tested positive for HIV.

Kelly Osbourne said childhood memories in Britain of her mother battling bulimia led her to vow not to go down that same path.

British firefighters battled a fierce blaze early Friday morning at the 5 million pound ($9.3 million) home of rock star Ozzy Osbourne and his wife Sharon.