Making The Band 2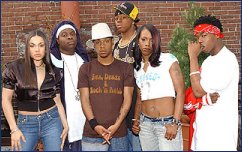 MTV has announced that the third season of
Making the Band 2
will premiere on Thursday, March 4th at 10 PM ET/PT. The show will continue to follow the six members of the now established hip-hop group Da Band as they move into P. Diddy's luxury apartment on New York City's Upper East Side and work at taking their careers to the next level under P. Diddy's tight supervision. The
Making the Band 2
premiere will kick-off with a Sunday marathon of past episodes beginning on February 29th at 1 PM ET/PT.
Full Story


Too Hot for TV, the debut album for Da Band, the hip-hop/R&B group group that came out of MTV's Making The Band 2 series hosted by Sean "P. Diddy" Combs, sold over 203,000 copies in it's first week of release last week.

Zap2It.com reports that MTV has announced that Sean "P. Diddy" Combs will be featured in the network's reality show, 'Making the Band II.' Production of the series will begin later this month in New York City. The half-hour show will document the creation of a mainstream hip hop/R&B group, starting with the audition process working up to a record deal, all under the guidance of P. Diddy himself.