Celebrity Cooking Showdown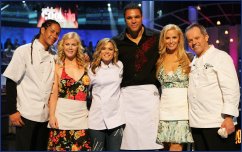 Don't look now, but it appears that after dropping to fourth place in the network ratings race, NBC's once high-flying programmers might actually be learning to respect their viewers and recognize that not needlessly upsetting the few viewers they do have could be a smart idea. Full Story


NBC has put its "Celebrity Cooking Showdown" on the back burner after three nights of disastrous ratings on U.S. television.

And she can cook too! Reigning Miss USA Chelsea Cooley proved she's not just another pretty face as she defeated comedian Tom Arnold and country singer Big Kenny on the third night of NBC's week-long Celebrity Cooking Showdown competition. After a result, Chelsea will face off against Monday night winner Cindy Margolis and Tuesday night winner Ashley Parker Angel in this evening's final cooking showdown.

Pop singer and MTV Making the Band alumni Ashley Parker Angel added to his reality TV credentials by securing the second spot the in NBC's Celebrity Cooking Showdown Thursday finals, joining Monday night finalist Cindy Margolis.

Something else to add to the celebrity profile of one-time Internet download queen Cindy Margolis: "takes instruction well." Cindy emerged as the winner of last night's NBC broadcast of Celebrity Cooking Showdown's initial first round competition, launching her into Thursday night's finals against the soon-to-be-revealed winners of the show's two additional Tuesday and Wednesday night first round competitions.

NBC has revealed the identities of the three chefs and nine celebrities that will be appearing on Celebrity Cooking Showdown, the reality cooking competition series that it will air over five consecutive nights beginning Monday, April 17 at 9PM ET/PT

NBC is fast-tracking a celebrity cooking competition being executive produced by rapper Sean "Diddy" Combs and Ben "The Biggest Loser" Silverman.