There's Something About Miriam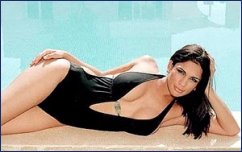 One of the U.K.'s most controversial reality dating series is finally going to air in America.
Full Story


The six straight men who sued to prevent the broadcast of an UK reality show in which, unbeknownst to them, they competed for the affection of a preoperative Mexican transsexual quickly got over their claims of injury and public humiliation in return for a cash payment, clearing the way for the program to debut on UK television last evening.

How far can producers trick reality TV show contestants before they start suing, contracts or no contracts? A new British reality show has found out.