Project Runway 1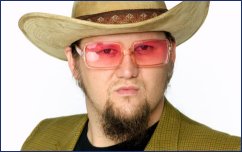 Original Project Runway winner Jay McCarrol might be a "struggling" fashion designer, however he apparently isn't so hard-up that he can't afford a home. Full Story


Although original Project Runway winner Jay McCarroll says he's "not bitter" about past comments made by fashion designer Tim Gunn, it appears the two still won't be dining out together anytime soon.

"Project Runway's" first winner and most popular contestant, Jay McCarroll, is showcasing his design collection during New York's Fashion Week.

A man who claims he created "Project Runway" has filed suit in Los Angeles against Heidi Klum, Elizabeth Hurley and Greenlight Productions.

German supermodel Heidi Klum and her husband, British pop star Seal, have welcomed their first child together, a boy born in Los Angeles.

Pregnant supermodel Heidi Klum has married singer Seal in a secret Mexico ceremony attended by about 60 friends and relatives.

"Sole Power," our episode summary for the season finale episode of Bravo's Project Runway series, written by AyaK, is now available.

In the finale of Bravo's Project Runway, which took place five months after the final three designers were chosen, small-town Pennsylvania boy Jay McCarroll, 29, was chosen as the winner based on a 12-piece show by each of the remaining designers during New York's Fashion Week.

Bravo's Heidi Klum-hosted Project Runway returned to the airwaves with a vengeance last week, sashayed its way to record ratings in its post-holiday return from a two-week hiatus.

Supermodel Heidi Klum and British pop singer Seal got engaged at a Canadian ski resort during the holidays, E! Online reported Wednesday.

Bravo's Project Runway fashion designer competition, a spinoff of sorts of Miramax's Project Greenlight filmmaking series that was dropped by HBO but later picked up by Bravo, will premiere Wednesday, December 1 at 10PM ET/PT. Hosted by supermodel Heidi Klum, Project Runway will give aspiring designers a chance to break into the notoriously difficult-to-crack fashion world via an America's Next Top Model-like competition format.