Growing Up Gotti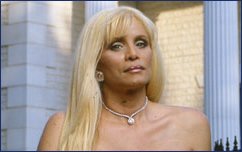 Former 'Growing Up Gotti' star Victoria Gotti fighting home foreclosure Full Story


The cable A&E network has renewed "Dog the Bounty Hunter," "Inked" and "Criss Angel Mindfreak" but not "Growing Up Gotti."

Reality TV star and mafia don daughter Victoria Gotti is backing off her claim that she secretly underwent treatment for breast cancer.

Victoria Gotti of New York says she was diagnosed with breast cancer last fall, but she kept it secret from almost everyone including her sons.

The three young stars of TV's reality show "Growing Up Gotti" are opening two restaurants and a tanning salon, the New York Post reported Sunday.

A New York police group wants the A&E cable network to cancel Victoria Gotti's reality TV show, claiming it's full of mob undertones and Italian stereotypes.