Britney And Kevin: Chaotic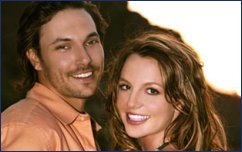 Rapper Kevin Federline has promptly responded to Britney Spears' petition for divorce by filing for solo custody of their children in Los Angeles. Full Story


Britney Spears and Kevin Federline previously had no problem letting fans in on their lifestyle, but the current situation surrounding the pop princess is apparently just too chaotic for Federline to let reality cameras role again.

Pop star and new mom Britney Spears filed divorce papers in Los Angeles Tuesday citing "irreconcilable differences" with husband and former "Britney and Kevin: Chaotic" co-star Kevin Federline.

Glamour couple Britney Spears and Kevin Federline have given their newborn son the decidedly patrician name, Sutton Pierce Federline.

Rapper and Britney Spears husband Kevin Federline is going broke even though he made about $2 million off of the UPN show "Chaotic."

Britney Spears says there's no truth to recent reports that she is considering a second season of Britney and Kevin: Chaotic, the failed 2005 UPN reality series that chronicled her pre-marriage relationship with husband Kevin Federline.

Kevin Federline, Britney Spears' husband, joined Americans for Common Cents and Virgin Mobile in New York to push pennies.

Britney Spears and husband Kevin Federline were said to be romantically back together when they were spotted on a short Miami Beach vacation.

A California clothing company has signed Britney Spears' husband, Kevin Federline, to feature him as part of its newest clothing line.

Matt Lauer, New York host of "Dateline NBC," questioned Britney Spears about marriage, motherhood, housework and fame -- she has no regrets about any of it.

Britney Spears defends her parenting skills in an interview with NBC's Matt Lauer set to air Thursday, the network says.

U.S. pop star Britney Spears Tuesday confirmed during a surprise appearance on "Late Night with David Letterman" that she's pregnant again.

Pop star Britney Spears is pregnant with her second child by husband Kevin Federline, US Weekly reported Tuesday.

Wannabe rapper Kevin Federline defends his reputation in this week's Newsweek, saying if reports were true, he would not be married to Britney Spears.

U.S. Transportation Secretary Norman Mineta blasted pop star Britney Spears as "irresponsible" for driving with her infant son on her lap.

Louisiana native Britney Spears is heading home to celebrate Mardi Gras in New Orleans, it was reported Monday.

Los Angeles County authorities are investigating singer Britney Spears for driving with her baby in her lap instead of strapped in his car seat.

Pop star Britney Spears topped the 46th Annual Worst Dressed Women list released Tuesday by style watcher Mr. Blackwell.

Britney Spears' husband, Kevin Federline, announced on Ryan Seacrest's Los Angeles radio show Thursday that he's putting out a hip-hop album.

Britney Spears filed a $10 million lawsuit against US Weekly in Los Angeles Monday for a story claiming she made a sex tape with her husband, Kevin Federline.