Brat Camp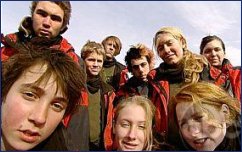 Two of the youths featured on ABC's "Brat Camp" reality series are facing criminal charges for separate incidents. Full Story


Jada Chabot, 15, one of nine misfits on the new ABC-TV "Brat Camp'' show, is facing charges after slamming a speedboat into a Massachusetts family.

Don't look now, but it appears as though ABC might have another hit summer reality series on its hands.

ABC has announced that its new Brat Camp reality series will premiere Wednesday, July 13 at 8PM ET/PT with back-to-back hour-long episodes. Following its special two-hour debut broadcast, Brat Camp will air regularly on Wednesdays at 9PM ET/PT.