Big Brother 2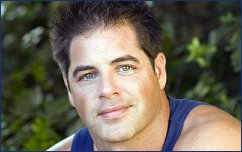 The woman who was allegedly assaulted by former Survivor: Fiji castaway Kenward "Boo" Bernis is apparently a fellow former CBS reality star. Full Story


Will Kirby and his longtime love, Erin Brodie, have finally exchanged "I do's."

Will Kirby and fiancee Erin Brodie are expecting another baby.

Will Kirby and Erin Brodie, his girlfriend of six years, have taken their winning relationship to the next level.

Big Brother 7: All-stars winner Mike "Boogie" Malin and his business partner are reportedly being sued for embezzlement after they allegedly gambled away an "illegally siphoned" wad of cash.

Former Survivor: Fiji castaway Kenward "Boo" Bernis claims that fame motivated former Big Brother 2 houseguest Krista Stegall's recent allegations that he battered her.

Dr. Will Kirby and his fiancee Erin Brodie are the parent of an aptly-named child.

Dr. Will Kirby and his girlfriend Erin Brodie are reportedly reproducing.

Mike "Boogie" Malin had a wicked good time watching the Boston Red Sox capture the 2007 World Series championship in Denver on Sunday night, but unfortunately he apparently spread the joy of Red Sox Nation to an uninterested local recipient.

Reuters reports that NBC has boarded up its "Love Shack" until midseason.

Dr. Evil is returning to network television. Will Kirby, the crafty winner of "Big Brother 2" last year, has been named as the host for the new NBC reality show "Love Shack".

The Daily Advertiser is reporting that former 'Big Brother 2' contestant Krista Stegall has sued CBS over an incident in which another contestant held a knife to her throat last year.

CBS has announced that the last three episodes of Big Brother -- originally scheduled for this past Tuesday, Thursday, (both preempted) and Thursday September 20th -- have been rescheduled.

Late this afternoon CBS Affiliate Relations announced that the CBS prime time lineup of "48 Hours," "Big Brother," and "CSI" as well as "Late Show With David Letterman" and "Late, Late Show With Craig Kilborn" will be preempted this evening on the full network.

Variety is reporting that one of Monica's cousin remained unaccounted for in New York late Wednesday. Monica has been kept up to date on the situation, said 'Big Brother' executive producer Arnold Shapiro.

In the wake of Tuesday's tragedy, ripples of change continue to spread throughout the television industry.

Tuesday night's episode of ``Big Brother 2'' appeared to take the concept of prime-time product placement to a new level -- at least at first glance.

Former reality cuties Elisabeth Filarski ('Survivor: The Australian Outback') and Krista Stegall ('Big Brother 2') have been named as judges for the 2001 Misss Teen USA Pageant, which airs Wednesday, Aug. 22, at 9 p.m. ET on CBS. CBS of course is the network home of both 'Survivor' and 'Big Brother.'

In case anyone is wondering, this is the week during which the producers have decided to skip the Head Of Household and eviction process (due to Justin's ejection earlier in the season.)

Krista continues to be a fool and totally miss the point -- what a wonderful mother she must be. Hopefully she'll soon realize how dumb she's coming across and just shut her mouth.