The Victoria's Secret Fashion Show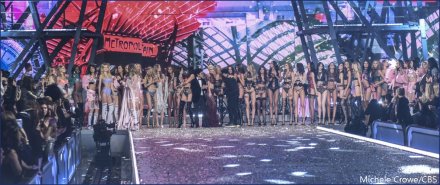 The Victoria's Secret Fashion Show's 2016 edition will air on CBS on Monday night, but you can get a look at nearly 40 of the show's hottest looks now! Full Story


The Victoria's Secret Fashion Show's 2016 edition took place in Paris Wednesday night and the models rocked show-stopping lingerie and accessories.

Despite last year's disappointing ratings, CBS has announced that The Victoria's Secret Fashion Show, featuring some of the world's leading supermodels, including Heidi Klum, Tyra Banks and Gisele Bundchen, will return to the network on Wednesday, Nov. 19 (Time TBA) with a sexy tribute to Broadway.

Reuters reports that a top communications official on Thursday called for an overhaul of the government's broadcast indecency standard as hundreds of complaints flooded his office about the Victoria's Secret lingerie fashion show that aired on prime-time television Wednesday night.

Backing off their earlier plans to air their "Victoria's Secret Fashion Show" Wednesday, November 20th at 8PM ET, CBS executives have now decided to air the program in the 9PM ET timeslot and swap the normally scheduled 9PM program, "The Amazing Race 3," into the 8PM ET timeslot.