The Surreal Life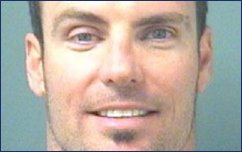 Robert Van Winkle, the ex-rapper and reality TV star known as Vanilla Ice, was put on supervised release without bond Friday following his arrest in Florida. Full Story


Robert Van Winkle, the former rapper and reality TV star known as Vanilla Ice, is facing charges after an alleged spat with his wife, authorities say.

Verne Troyer has apparently been working so hard on his latest film that it landed him in the hospital.

The self-proclaimed "world's first supermodel" is apparently never to old for some self improvement.

U.S. recording artist-turned-preacher MC Hammer is alive and well, contrary to some online reports, TMZ.com said Wednesday.

USA Network announced that former The Real World: Las Vegas and The Surreal Life star Trishelle Cannatella has joined the cast of Dr. Steve-O, a new reality series that will chronicle former Jackass and Wildboyz star Steven "Steve-O" Glover's attempts to toughen up men across the country.

Former U.S. televangelist and Christian singer Tammy Faye Messner has died of cancer at age 65, CNN reported Saturday.

Janice Dickinson has presumably been banned from numerous venues throughout her life, but never one this close to her heart.

Jordan Knight, the former New Kids on the Block singer and two-time The Surreal Life housemate, is the proud papa of a second son.

Motley Crue frontman Vince Neil got a taste of reality television a few years ago -- and he apparently liked it so much that he's going back for more.

Eric Estrada said his childhood dream was to be a member of the New York City Police Department. Now the 57-year-old The Surreal Life 2 roommate and former CHiPs freeway patrolman is getting his best opportunity to fulfill that dream by working as a reserve police officer in Muncie, IN for the new CBS reality series Armed & Famous.

Actress Tawny Kitaen has reportedly struck a deal to have drug charges against her dropped in Orange County, Calif.

VH1 has announced that The Surreal Life: Fame Games, an all-stars The Surreal Life edition that will feature eleven celebrities from the show's six previous editions competing to win a $100,000 grand prize, will premiere Sunday, January 7 at 9PM ET/PT.

Authorities said that actress Tawny Kitaen Finley has been charged with possession of 15 grams of cocaine.