Paradise Hotel 2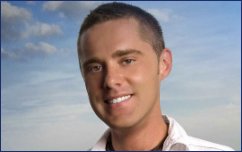 Although the show's broadcast networks have stated he was killed in a climbing accident, Nathan Clutter, one of 11 singles appearing in MyNetworkTV and Fox Reality Channel's upcoming Paradise Hotel revival, actually died in an apparent suicide, according to police documents obtained by Reality TV World. Full Story


Nathan Thomas Clutter, one of 11 singles appearing in MyNetworkTV and Fox Reality Channel's upcoming Paradise Hotel revival, died on October 12 at age 26.

MyNetworkTV and Fox Reality Channel have announced that the cable networks' new Paradise Hotel revival will premiere on Monday, February 4 at 9PM ET/PT on MyNetworkTV before a "steamier" TV-MA version of the same episode airs at 1AM ET the same night on Fox Reality Channel.

After a more than a four-year hiatus, Paradise Hotel will be re-opening for business.