Meerkat Manor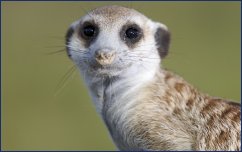 The meerkats of the Kalahari Desert's Whiskers clan are mourning the death of another one of their own.
Full Story


Animal Planet has announced Meerkat Manor: The Next Generation will premiere Friday, June 6 at 9PM ET/PT. Similar to the show's prior seasons, the new season will follow the remaining "Whiskers" clan members' attempts to survive in the Kalahari Desert.

Talk about being snake bit.

Flower, one of the furry stars of the Animal Planet documentary series "Meerkat Manor," has died after being bitten by a cobra in South Africa.