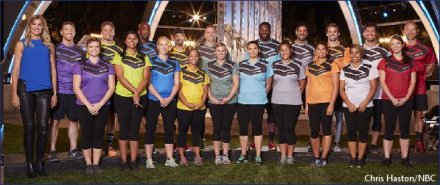 STRONG, NBC's new reality fitness competition series, eliminated the Purple team comprised of trainer Mathew Miller and trainee Nicole Bentley during Thursday night's broadcast. Full Story


Gwen Stefani has posted a short sneak peek into her upcoming music video for "Misery," from her album "This Is What The Truth Feels Like."

Blake Shelton has purchased Miranda Lambert's Pink Pistol storefront property in Tishomingo, Okla., after the "Little Red Wagon" singer decided to relocate.

Blake Shelton ate sushi for the first time alongside Jimmy Fallon on The Tonight Show.

Alisan Porter is seemingly more grateful for The Voice opportunity than any other winner before her.

The Voice has decided its newest winner.

Christina Aguilera and Ariana Grande performed a show-stopping duet on Tuesday's finale of The Voice.

The Voice's final performance show certainly delivered a night of stunning performances -- including original songs written by the contestants themselves -- and Alisan Porter emerged as the one to beat.

Christina Aguilera and Ariana Grande will duet on season finale of The Voice tonight.

The Voice eliminee Bryan Bautista talks about his time on the show -- including why he was relieved to go home, and whether it was easier or more difficult for him to go out after singing such an emotional and vulnerable song like "Hurt" by his coach Christina Aguilera.

Behati Prinsloo and Blake Shelton delighted fans by posing for a "baby bump" photo.

The Voice eliminee Paxton Ingram talks about his time on the show and what's next for him -- including whether he has any regrets and why he believes coach Blake Shelton was "the ultimate" coach and his "kindred spirit."

Blake Shelton and Gwen Stefani brought their romance to the 2016 Billboard Music Awards on Sunday night.

Shalyah Fearing talks about her time on The Voice -- including how she felt after being eliminated and whether she found motivation to deliver awesome performances in order to make her former coaches regret letting her go in earlier rounds of the competition.