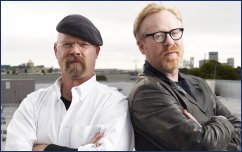 Tory Belleci, Kari Byron and Grant Imahara left MythBusters after they failed to reach a contract agreement with Discovery. Full Story


Sons of Guns star Stephanie Hayden has admitted her father and co-star William Hayden molested her in light of reports he had raped his youngest daughter for over a year.

Sons of Guns star William Hayden has been arrested and charged with raping his 12-year-old daughter for over a year.

MythBusters is ditching its trio of behind-the-scenes stars known as "The Build Team."

Deadliest Catch, Shark Tank and Jane Lynch were all honored at Saturday's Creative Arts Emmy Awards 2014 ceremony.

Sons of Guns star Will Hayden has been arrested on child molestation charges.

Former Dirty Jobs host Mike Rowe took a moment the day before Memorial Day to draw attention to a fan who happens to be a quadruple amputee and veteran of the U.S. Army.

Bear Grylls will be returning to Discovery Channel's American network, not just its international editions.

NBC has revealed the identities of the 10 teams who will be competing on Get Out Alive with Bear Grylls.

Discovery Channel has announced it will honor former Storm Chasers cast members Tim Samaras, Carl Young and Paul Samaras with Mile Wide Tornado: Stormchasers Tribute, which will air Wednesday, June 5 at 10PM ET/PT.

Former Storm Chasers stars Tim Samaras and Carl Young, along with Samaras' son Paul, were killed while following a tornado in El Reno, OK, on Friday.

Discovery Channel is taking wilderness survival shows to an X-rated level.

Jesse James is apparently hoping the fourth time exchanging vows will be the charm.

Gold Rush will be rushing back to Discovery Channel.